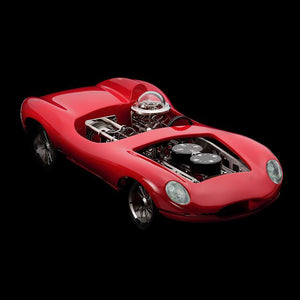 L'Epée 1839 Time Fast II "Ferrari" Red Clock
Regular price $43,900.00 Sale
Inspired by the racing sports cars of the 1960's, showcasing the epitome of automotive aesthetics with a sleek body, L'Epée 1839 introduces the Time Fast II. This kinetic piece of art is built on an H-chassis, just as racing cars were back then. Turning the key starts the engine, turning the steering wheel sets the time, and winding the movement is accomplished by selecting the appropriate gear and pulling the car backwards. The name Time Fast II references the fact that it's a 2-seater car, has two movements (time and engine automate), and it is L'Epée 1839's second car inspired clock. Limited Edition of 99 pieces. 
Brand: L'Epée 1839
Model: Time Fast II "Ferrari" Red
Reference Number: 74.6011/164
Movement: Manual Winding
Material: Palladium-plated Brass, Stainless Steel, and Anodized Aluminum
Size: 450mm long x 189mm wide x 120mm high
Warranty: Manufacturer's Warranty
SKU: 34773
Shop other beautiful pieces in our Desk & Wall Clock collection.
For inquiries on the piece please contact: boutique@shsilver.com.