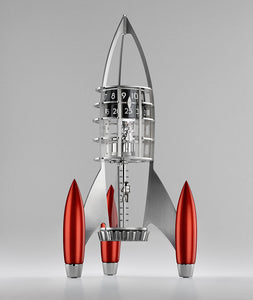 MB&F and L'Epée 1839 Destination Moon Red Clock
Regular price $24,700.00 Sale
MB&F and L'Epée 1839 bring you a torpedo shaped rocket from childhood dreams with the Destination Moon mechanical table clock.  Made of stainless steel and palladium plated brass, the eight day movement is powered by an oversized winding crown that sits at the base, and the hours and minutes are displayed by large, white numerals on black stainless steel disks.  And no spaceship would be complete without an astronaut. Destination Moon is helmed by Neil, a space-suited figurine forged in solid silver and stainless steel, who is magnetically attached to the ladder. Limited edition of 50 pieces.
Brand: MB&F and L'Epée 1839
Model: Destination Moon Red
Reference Number: 74.6000/154
Movement: Manual Winding
Material: Stainless Steel and Palladium-plated Brass
Size: 41.4 cm (height) x 23.3 cm (base diameter)
Warranty: Manufacturer's 2 Year Warranty
SKU: 30231

Features:

Shop other beautiful pieces in our Desk & Wall Clock collection.
For inquiries on the piece please contact: boutique@shsilver.com